Passport Photo Requirements for Canada Visa in Nigeria
Travelling abroad can be very interesting especially when it comes to going to places you've always dreamed of. Canada is a country located in North America with lots and lots of beautiful places and opportunities. There are quite a number of reasons anyone might want to travel to Canada, be it to study, live with family, tourist visit, or for business reasons.
Visa application is a very important aspect of international travelling as it allows the Canadian embassy to obtain relevant information about who you are, your eligibility for a visa and reasons for applying for a visa. Acquiring Canadian visa can be very demanding and stressful as you can get disqualified for different reasons ranging from inconsistent information to poor interviews. Another common reason for getting disqualified for your visa is wrong passport photographs, that is, not meeting the passport picture requirement for Canada visa.
Many countries have a lot of rules and regulations with regards to the passports required for your visa. Requirements for every country varies according to the country's standards. Hence, the reason you require the service of a professional photo studio in Nigeria to get things right at first.
Below are the passport picture requirements for a Canadian Visa.
Canada Visa Photo Specifications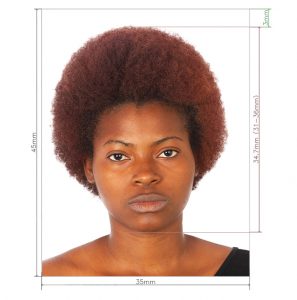 Visa Photo Size: Width – 35mm (3.5cm); Height – 45mm (4.5cm)
Required Size: 60kb to 240kb
Resolution (dpi): 305
Image definition parameters: Head height – 34.7mm (including the hair); Distance from the top of the photo to the top of the hair – 3mm
Head Size: Must be centred and should measure 31mm
Headgear: For religious purposes only and must not block facial features. Face should not be obscured.
Facial Expression: Eyes wide open and a neutral expression only (no frowning, no pouting, and no smiling)
Beard: No restrictions
Background: Plain white or light coloured
Recency: Not more than 6 months
Quantity needed: Two (2) passport photographs
Passport Photo Size: Width – 50mm (5cm), Height 70mm (7cm)
There should also be some information on the back of the passport photograph. The following details should be included on the back of the passport photography for Canada Visa:
Applicant Name
Address of the Photo Studio
Date passport photograph was taken – this can be stamped or handwritten
A guarantor is required to certify the passport photography by adding "I certify this to be a true likeness of <applicant>" and then guarantor's full name and signature.
Canada Visa Photo Guidelines
The above-listed guidelines are very crucial because they are the required procedures for a Canadian Passport. Please note that:
It is advisable to use natural lighting with your face showing clearly
Altering of photos can cause automatic rejection or disapproval – editing is not permitted
A signed letter must be submitted if you are wearing any medical devices
Hair should be packed up or down and should be kept away from the face
The passport photo is preferred on glossy paper and high-quality photo paper
Your shoulders should be square with the passport photo not twisted or sagged
The flash from the photography shouldn't affect the skin tone – it should be natural
No shadows should be cast on the face
Canada prefers all photos taken with neutral expressions as this allows better face recognition on their system
The frames on your recommended glasses shouldn't be too thick as this hinders verification – no tinted glasses or sunglasses are permitted
The only exception to headpiece is for religious reasons; every other reason are not allowed
Canada Visa Photo Specifications for Babies, Toddlers, Newborns
For every child travelling, there must be a passport or visa, and this should include an individual photo of the child. The Canadian government knows the frustration of getting the passport photo of babies' right so they've decided to be somewhat lenient towards the rules. But still, some conditions still need to be followed:
Try to get the photo of the toddler with face squared and mouth closed
Peradventure an adult is holding the child, his or her hand should not be visible
The background should be solid and white and you can use a sheet to get a better result
The infant can lay down or be in a car seat.
No shadows around the ear, the background, face or shoulders
Getting the requirements right is a very crucial step. A well-taken passport says a lot and can go a long way.